Race Report
Oxford Brookes swept the board against CUBC 'Blue Boat' and 'Blondie' crews in the first fixture of 2023.
For a moment it looked like the first fixture of 2023 would not go ahead. There were dark mutterings about visibility, but just before the crews were set to take to the water, the fog lifted.
Conditions were bitterly cold.
---
CUBC 1 'Blue Boat' v Brookes 1
Cambridge won the toss – Chose Surrey
The Boat Race Stone to Chiswick Eyot
The CUBC 'Blue Boat' was coxed by James Trotman with CUBC Women's President Caoimhe Dempsey at stroke.
Brookes, with Brenna Randall at stroke, took an early lead. They received a warning from umpire Matthew Holland for passing in front of Cambridge at the black buoy with just half a length of clear water in their favour. Brookes' cox, Sofia Bernal steered right over to Middlesex. They pulled steadily ahead to lead by a length and a quarter before moving back to Surrey. Crews were line-astern at the red buoy before Harrods. Brookes were now a length and a half ahead. Holland ordered Brookes back to their station. Cambridge were warned as they made several motions to overtake. Brookes held firm. They maintained a length and a half lead straight to the finish.
Barn Elms to Chiswick Steps
Brookes quickly pulled ahead to lead by three quarters of a length but were warned against cutting ahead. Cambridge steered the wider line at the red buoy and were promptly ordered back to their station. At Harrods, Brookes led by a length and a quarter, dead ahead of Cambridge. The air rang with brisk, successive warnings from umpire Matthew Holland as Cambridge nipped away at Brookes' heels. A small crab in the stern of the Cambridge Boat gave Brookes space to pull away to a comfortable five length victory.
---
CUBC 2 'Blondie' v Brookes 2
Cambridge won the toss – Chose Surrey
The Boat Race start line to Harrods Furniture Depository
Both crews went off hard. Brookes' cox, Emily Mears, took advantage of the negligible stream and headed for the Fulham wall from the Middlesex bank. 'Blondie's' cox, Kate Crowley, followed a more conventional line. Brookes powered away past Imperial College Boathouse, winning by four lengths.
Barn Elms to St Paul's School Boat Club
For Piece 2, the crews set off along the navigation line by Barn Elms, rather than the racing line. Brookes pulled across, close to Cambridge, resulting in stern warnings for both boats. A clash followed. Both crews moved apart and Brookes took the lead shortly before Harrods Furniture Depository. They were line astern as they went through Hammersmith Bridge. Cambridge opted for the wider line and Brookes duly moved across. Brookes took the second piece by three lengths.
The Mile Post to Chiswick Steps
CUBC 2 'Blondie' started the final race of the day one length up. The course was clear of other vessels, so both crews took a conventional racing line. Brookes moved up to a level position by Harrods Furniture Depository. After a warning from umpire Caroline Lytton for 'Blondie', Brookes broke clear on the other side of Hammersmith Bridge. They moved to the Surrey station and closed the day decisively with an easy clear water victory.
As returning crews reached Putney, they spotted a seal feasting on a large fish… No doubt today's results will give CUBC Women's coaches a lot to chew on in the lead up to the rest of 2023's fixtures.
---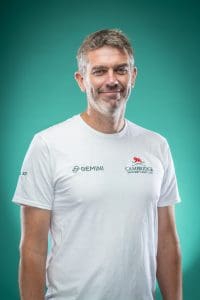 CUBC Women's Chief Coach Patrick Ryan said:
"We want to thank Oxford Brookes for agreeing to race us today. It has been a while since we have had the chance to race someone else, except for ourselves.
The reason we are so eager to race Oxford Brookes is simply because of how powerful and consistent they are. It is not the margin we wanted today, but we will reflect on that and move on.
We are not finished with selection. This fixture was a great opportunity for the crews to demonstrate their skills. We will see what we can learn from the data coming out the other side of today's performances.
Conditions on the Tideway were fine, all the local clubs were very supportive. We would like to thank them for that.
We were treated to an exceptionally strong performance from Oxford Brookes and we look forward to seeing what Imperial and University of London have to offer in two weeks' time."
---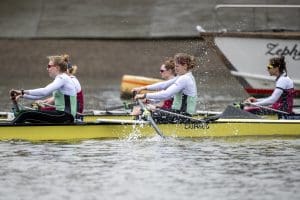 Oxford Brookes University Boat Club is internationally recognised for its commitment to producing outstanding athletes.
The club's High Performance Programme is supported by British Rowing and funded through the National Lottery. OBUBC, known as 'BROOKES' has a track record of coaching athletes to challenge for a place in the GB Rowing team.
Brookes are a regular and formidable opponent in fixtures leading up to The Boat Race.
Oxford Brookes is known for offering a combination of high-performance rowing and vocational degree study in the UK. In 2020, the institution was named as one of the top 50 young universities in the world by the QS World University Rankings.
---
RESULTS
CUBC 1 'Blue Boat' v BROOKES 1
Start to Chiswick Evot: BROOKES WON by 1 1/2 lengths
Barn Elms to Chiswick Steps: BROOKES WON by 5 lengths
UMPIRE – Matthew Holland
CUBC 2 'Blondie' v BROOKES 2
Start to Harrods: BROOKES WON by 4 lengths
Barn Elms to SPSBC: BROOKES WON by 3 lengths
Mile post to Chiswick Steps: BROOKES WON easily
UMPIRE: Caroline Lytton
---
How To Watch Our Next Fixture
Watch CUBC take on London Rowing Club, University of London, and the Dutch National Team, in a series of exciting races on Sunday 5 February.
Enjoy all the action LIVE on YouTube or join us at London Rowing Club from 10am-3pm to watch the races on the big screen and enjoy some refreshments.
If you choose to watch in person, you will also be able to watch Isis take on Imperial and spot CUBC lightweight fixtures against Imperial and University of London. Please note that these fixtures are not livestreamed)
Dress in your club colours! ALL WELCOME
Address: London Rowing Club, 7 Putney Embankment, SW15 1L
---
Schedule
11:20 'Isis' v Imperial (will not be livestreamed)
Umpire: TBC
11:40 Cambridge Women v University of London
Umpire: Matt Smith
12:00 'Blondie' v University of London
Umpire: Caroline Lytton
12:20 Cambridge Lightweight Women v Imperial
Umpire: Matthew Holland
12:45 'Goldie' v University of London
Umpire: Clare Harvey
TBC: Cambridge Men's Lightweight Fixture v University of London
Umpire: TBC
13:10 Cambridge Men v Dutch National Team
Umpire: Tony Reynolds